Handling of alcoholic beverages


Calculator
Warehouse services
Excise Warehouse
The Only Excise and Customs Warehouse in Europe with such a Unique Location - Right on the Border of the Russian Federation.
"TRANSIT EU" warehouse is located 800 meters from the Latvia-Russia crossing point Terehova-Burachki, which allows a very fast delivery of goods to the Russian Federation (6 – 24 h). Track and vagon loading provided.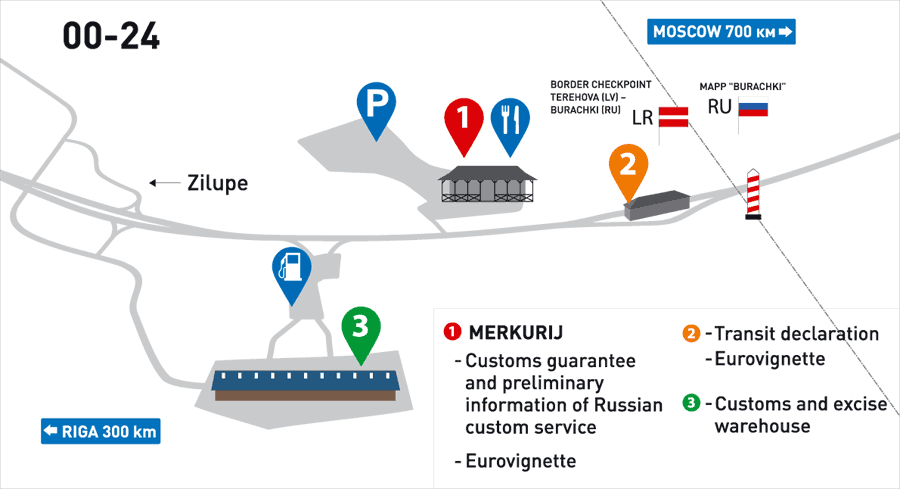 A total of 13 500 m2 of secured territory, of which 10 000 m2 is an open storage area and 3 500 m2 is a closed warehouse space. At the moment the warehouse capacity allows processing of around 350 vehicles per month. Our clients include the leading Russian importers of alcoholic beverages and consumer goods, as well as small emerging companies. Due to the growing demand for warehouse services, the closed warehouse space will be increased by 6000 m2 by the end of 2015.
A special pride of the company – the excise department. Large experience and the highest level of professionalism ensures satisfaction of the most demanding customers.
Control of the incoming and outgoing goods
Excise stamps for the Baltics, Russia, Ukraine, Belarus, and Kazakhstan
Shipments from the excise warehouse by road and railroad
Printing of labels at any complexity
LOT number control
Gift packing services
Storage of excise stamps in safes
Reports of the incoming and outgoing shipments
Special handling of pallets (corner protectors, control tape, etc.)
Weight services for goods (pallets, boxes, bottles)
Temperature control of the goods
Residuals management
Security system, including, video surveillance, access control, and onsite security guard
Insurance of goods and excise stamps
Our advantage – a combination of speed, price, and highest quality.
We offer the best rates for goods of any complexity level!
Customs Warehouse
MERKURIJ GROUP offers a full range of services at Customs Warehouse:
AEO status (Authorised Economic Operator);
Services of licensed customs broker;
Local customs clearance IM/EX;
Registration of change of ownership of the goods;
Loading-unloading and warehousing services;
Goods storage;
Sorting of goods;
Stocking of pallets;
Insurance of goods in the warehouse and on the road;
Door to door logistics by road and railroad;
Servicing of cargo;
Temporary storage at the warehouse up till 20 days without customs declaration;
Inventory control;
Customs guarantees for the EU and Russian Federation;
Consultations in the area of customs regulations;
Permits for handling and transporting of oversized loads.
The excellent location of the warehouse allows delivering goods from anywhere in Europe to Russia without going through Riga.
All the goods that are stored at the customs area are insured.
Working hours – 24/7.
Excise and customs warehouse services
Tel. +371 29474802 (Mon.-Fr. from 8.00 to 19.00)
Tel./fax +371 28636017
E-mail: merkurijsdln@inbox.lv